Measuring Our Contribution to Sustainable Development
Individually, Copper Alliance® members have been sharing sustainability metrics with the public for years. In 2011, Copper Alliance® members decided to collectively analyze these figures. By doing this on a global scale through ICA, the industry is able to identify areas for benchmarking and collective action. ICA is committed to sharing these figures with the public.
The eight indicators chosen are aligned with the Global Reporting Initiative, which provides a consistent, well-recognized methodology for reporting. Joining this collective effort is voluntary, and in 2018, 18 members participated. These members represent between 40 – 50 percent of global annual copper production.
Percent of World Copper Production Represented by the SD Indicators in 2018
When calculating the indicators, the volume of copper is not double or triple counted as it moves along the manufacturing chain. This means the indicators characterize 10 – 11 million unique copper tonnes per year, representing around 40 percent of the annual world copper used.
On average in 2018, water was used at least twice before exiting production sites. Copper Alliance members surveyed demonstrate continued positive progress in the amount of water they are able to recycle and reuse during copper production.
For an example of the steps companies are taking to reduce the amount of freshwater they consume, take a look at the new desalinization plant at BHP's Escondida mine.
ICA encourages all of its mining members to use the A Practical Guide to Water Reporting produced by ICMM.
On average, the Copper Alliance members surveyed feed $107 billion per year into the global economy. In 2018, 97 percent of the revenue was redistributed in the form of wages, operating costs, financing, and investing in local community development.
On average, the Copper Alliance® members surveyed invest $19 billion every year to improve their contribution to sustainable development. This includes spending on protection of the environment and improving the safety of operations.
For example, a three-year project at Boliden's Aitik mine increased the lifespan of their system five-fold and the efficiency of their operation.
The Copper Alliance® members surveyed employ nearly 300,000 people on average per year. This does not include the hundreds of thousands of jobs created by the industries using copper. In Chile - where 30% of the world's copper is mined - it is estimated that for each job in a copper mine, 3.7 jobs are created in other sectors of the economy. For a comprehensive assessment of the socioeconomic impact of copper mining on the workforce in Chile, see this 2017 analysis.
Between 2013 and 2014 the Copper Alliance® celebrated a reduction in the injury rate by members surveyed. Significant investment in equipment and training, as well as industry-wide use of the OHSAS 18001 (industrial safety and health protection) certification has driven progress on this indicator.
Moving forward, the industry focusing on behavior-based safety. ICMM hosts a leading dialogue on safety, where many Copper Alliance members collaborate to drive zero harm.
The majority of Copper Alliance® members surveyed are committed to reporting their information with third party verification in the spirit of transparency and collaboration.
&nbsp
To learn more about how the indicators are calculated, download the methodology.
Participating Companies
Our members rated their performance against a range of indicators. The following members responded:
Measuring Across Three Sectors
Before copper ends up in a finished product, it must go through many stages of processing. The first is mining, where the members who responded produce approximately eight million tonnes of ores and concentrates per year. The second stage, refined production, involves members smelting and refining around nine million tonnes of ores, concentrates and recycled material into cathodes, cakes, and billets annually. The third category is fabrication where participating members transform around two million tonnes per year of refined copper into semi-fabricates, such as wire rods and sheets.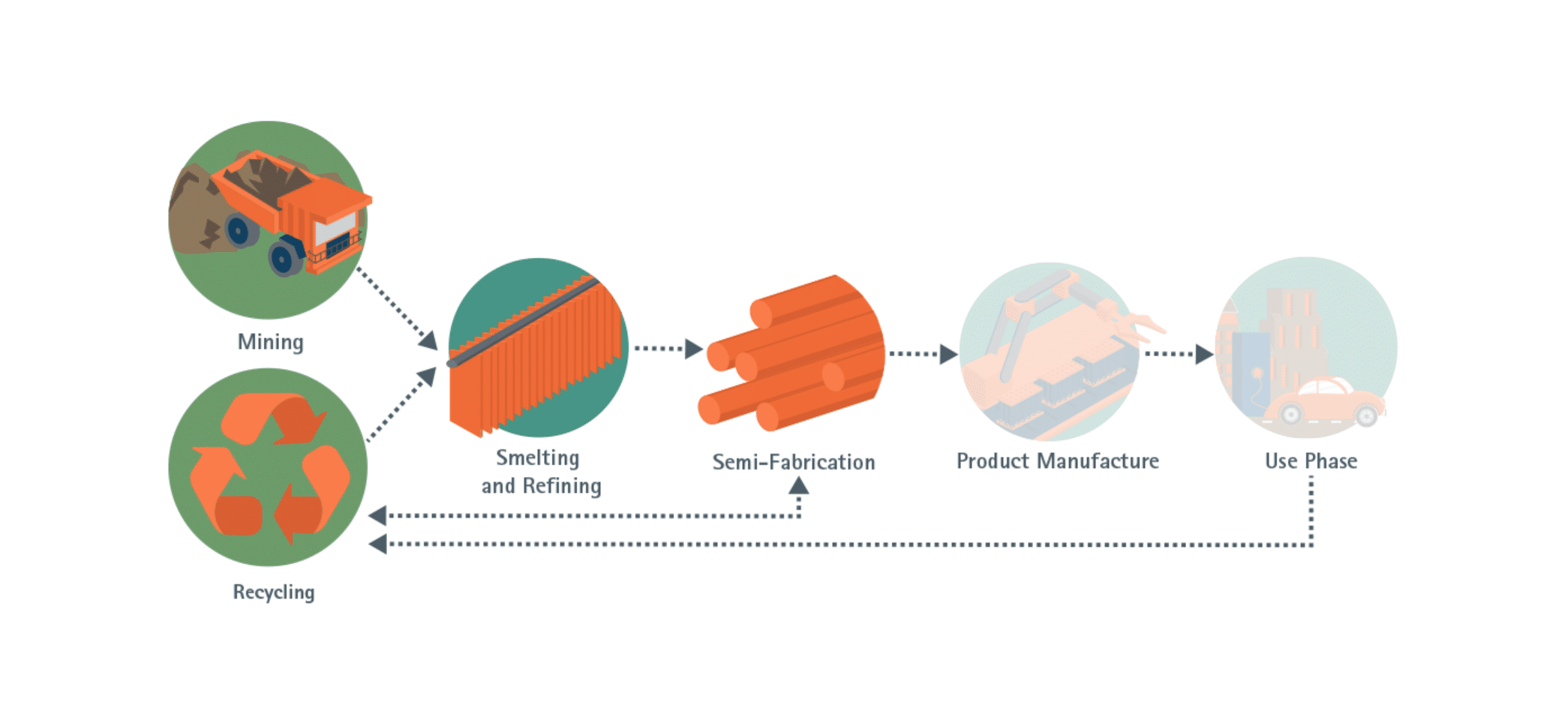 Global Pathways
The copper industry has a diverse, global footprint.